You may definitely ask, why does a healthcare industry or pharmaceutical manufacturing company need an ERPNext system? As a white-collar job, we must know the importance of the pharma and life science industry who stand in the line of saving millions of lives. According to various healthcare system researchers, by using the right software to streamline, organize, and optimize internal operational processes, private sectors can simply ensure a stronger economy at reduced cost growth and improved service quality to it customers. As fastest-growing industry, Tridots Tech offers the white-label, open-source ERPNext solution for every medical centre.
The right enterprise resource planning (ERPNext) software implementation will change the total lifecycle of your manual task and productivity growth. With Tridots Tech on your side, you can centralize all your medical records, analyse opportunity pipelines, and formulate costing, quality, and materials smoothly.
Automate Your Small & Mid-sized Pharma Business: Major Challenges
Whether you are into pharma manufacturing or pharma store management, as core business in the market, the pharma industry also faces multiple challenges that distract the financial status and customer relationship level rigorously. Here are some of the major challenges-
Handling patient history and reports

Follow booking or scheduled appointment with the doctor

Payment processing and invoicing

Product Costing on finished goods (pharmaceutical price changes)

Supply chain disruption

Plan material & Production based BOM (bill of material)

Staffing struggles

Organization problems

Maintain multi-approved suppliers

Managing manual records leads to costly errors

B2B and B2C pharma companies in e-commerce space struggles

Quality control and traceability of products

Data fraud risk

Compliances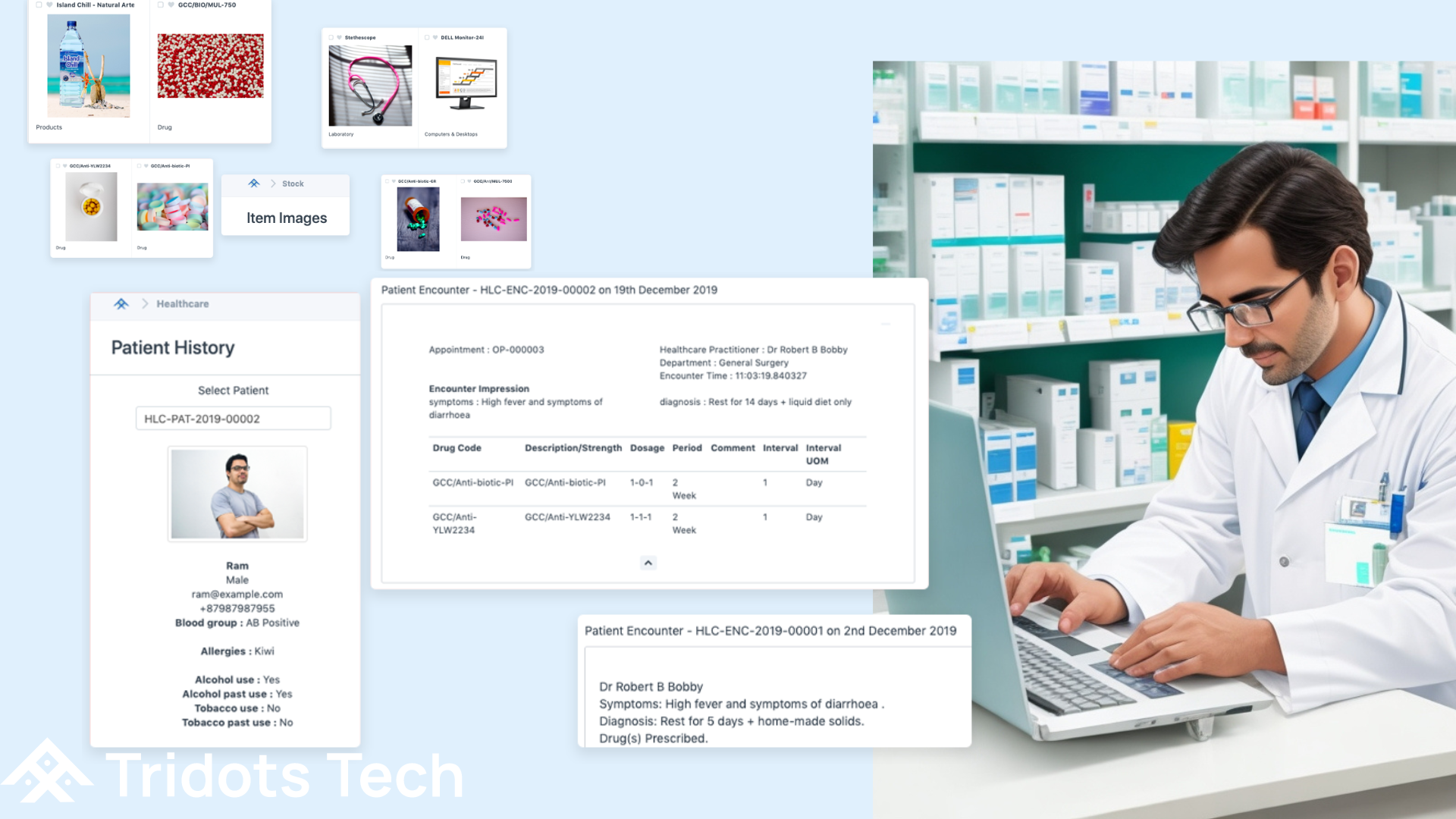 Digital Ecosystem For Various Medical Centre
Whether your health care business is a small or huge business, polyclinic or multi-speciality medical centre with a pharma store attached, our ERPNext software solution will capture the right information by automating the entire system with zero paper-work, and improve efficiency at a cost-effective budget.
Retail Pharmacy

Diagnostic Centre

Aerobics Centre

Gym & Fitness Centre

Wellness Centre

Homeopathy Clinic

Nutritionist Centre

Weight Loss & Weight Gain Centre

Specs Store

Medical Equipment Manufacturing

Ambulance Service

Child Birth Centre
You may come under any digital space mentioned above, Tridots Tech will identify your challenging area, understand your requirement, determine the budget and project timeframe, and finally implement your project ensuring customer satisfaction with best maintenance support.
What are the modules used in the Pharmaceutical Industry?
To ensure to notch pharma functionality, quality assurance, stock and batch maintaining (inventory), outsourcing facility, labelling & distribution, sales workflows, delivery & sales invoicing, and fail-safe mechanism, Tridots Tech aids in building the robust ERPNext software for healthcare industry with rich modules that control significant challenges or risks faced by your business.
PATIENT REPOSITORY
Utilize our ERP system to manage your patient records on a single platform.
- Making a "New" patient detail and saving it
- Patient's phone number and email
- Update the patient's previous prescription or medication information
HEALTHCARE PRACTITIONERS
With our ERP, you can keep all of the nurse and doctor records easily accessible at your healthcare centre.
- Add "New" practitioner information, then save
- Add your email, phone number, and hospital name.
- Include a picture of the practitioner and the department's job.
- View the schedule for the day and service unit information.
PRACTITIONER SCHEDULE
Using an ERP system, keep track of every practitioner's appointment details and schedule upcoming patient encounters without delay.
- Set up practitioners' accessibility status
- Monitor A daily or weekly timetable for the practitioner
- Block/cancel any appointments for new patients at anytime.
PATIENT APPOINTMENT
By managing patient appointments and prioritising reservations based on requests, you may give patients a clinical experience that is enhanced.
- Visibility of the monthly patient appointment calendar
- Each practitioner's colour batch is unique.
- Depending on the practitioner's schedule, accept, reject, or reschedule reservations.
- Email-based automated notifications for patient consultation
DOCUMENT STORAGE
Maintain patient data or summaries so that doctors can follow patients while attending appointments by using an ERP platform.
- Dashboard for medical patients with report preferences (print or view)
- Keep patient demographics up to date (inpatient status, name, contact detail, blood type)
- Patient serial number and inpatient batch number created automatically
- Relationship with patient, other allergies, medical history, or surgical history are defined
PATIENT HISTORY
Using the ERP module to monitor patient records and prior medical reports, practitioners can quickly evaluate, comprehend, and administer medication to patients.
- Documenting the patient lifecycle
- Date, time, and practitioner of appointment
- Important data including allergies and previous medications
EMAIL MANAGEMENT
Using the ERP email module, healthcare facilities can email patients about appointments with doctors, prescriptions, follow-ups, and more.
- Customised patient email templates
- The topic and specifics of a patient's medication and medical care are defined.
- One click will send mail to an administrator or practitioner.
PATIENT ENCOUNTERS
Having patient records from each visit via an ERP system is essential to providing better patient care in a healthcare facility. This allows the practitioner to combine the information and make an informed choice.
- Make a new patient encounter form based on the reservation.
- Describe patient-related information.
- Include the practitioner's name and the department.
- Assemble patient medication histories
DOCTOR PRESCRIPTIONS
A doctor's prescription helps the patient receive the appropriate medical care. Configure the print form builder in ERPNext to avoid paperwork.
- Automatically generated or printed medical slips
- Name, gender, appointment number, and department are defined for inpatient records.
- The doctor's recommended medication is listed.
- Name of the practitioner and digital signature
CLINICAL PROCEDURE
With the help of the ERPNext clinical processes map module, staff or nurses can keep tabs on and inform the doctors about their surgical activities.
- Create and map the clinical process for each patient.
- Add new procedures and update their status.
MEDICINES & EQUIPEMENT
Pharmacies or clinical pharma companies can manage their stock availability levels efficiently by tracking them in real-time.
- Exposure to all surgical and pharmaceutical products
- Advanced medical equipment bar code search
- View information about stock levels and moves.
- For additional information about the medicine, click the item.
AUTOMATE STOCK REPLENISHMENT
Utilize the integrated ERP demand forecasting feature in your pharmacy to manage stock levels for maximum shelf availability.
- Reorder levels should be watched to prevent stockouts.
- Setup of alerts for item stock out levels
- Automatic creation of material requests
- Auto-refilling system to cut down on out-of-stocks, missed sales, and markdowns
BILLING & PRICING
Using an ERP system, the front desk administrator or representative of the clinic takes charge of doctor consultations, medical billing, and pricing to provide a seamless customer experience.
- Simple custom print bill template
- Creating sales invoices automatically
- Patient notification of payment request via SMS or email
- Listed invoice information
EASY CUSTOMIZATIONS
Adapt your Pharmaceutical ERPNext software to your company's needs to increase patient happiness and turnover.
- Create personalised fields in forms using settings
- Edit settings for data retrieval, entries, copy hiding, and image viewing.
- Limiting user roles' access to data
- Creating unique print forms automatically without code
Tridots Tech: Your Healthcare and Pharmaceutical ERPNext providers
Wholesale to distribution, Supply chain to delivery. Connect dispensary solutions, order fill rates, shelf-life tracking, eCommerce POS, and unrivalled industry experience without any compromising functionality with our ultimate, seamless ERPNext implementation. Interested? Ask us how to integrate your medical business with Tridots Tech's advanced ERPNext solution.