Is your business creating a better customer experience and customer service?
We fully understand how crucial customer relationship is for your business productivity.
It is vital to streamline interaction with a fair system to configure business records, organize workflow or events, and attain timely deliverance. Today,
Tridots Tech
will elaborate on the importance of customer relationship management (CRM) to business and how we implement
CRM
application development using
ERPNext software
.
When it comes to
manufacturing
,
distribution
,
help desk
,
retail
, trade, laundry, field service, food or beverage, automotive, and health care industry, CRM system plays a vital role in identifying customers' needs by gaining control over customer-related data. Using ERPNext integrated CRM solution you can
respond to any queries a customer may have regarding the status of their job, improving both your customer service and interactions. Customers will have a more seamless interaction with your business as the customer experience is enhanced and integrated throughout the sales, production, and delivery phases.
ROBUST CRM MODULE TO AUTOMATE SALES PROCESS

It is undeniable that by using the ERPNext-powered CRM tool, you can automate tasks, connect with prospects, get leads, drive sales and grow business double-folded. You may ask what is lead management and how CRM applies to it.

A lead is a potential client or customer, such as a person or company. Advertising, direct marketing, networking, outbound calls,
website
inquiries, email marketing, social media marketing, and other techniques are used by businesses to create leads. When a sales executive qualifies and adds the lead information to a company's sales funnel, the sales process starts. The sales team then gets in touch with the lead by email, phone, personal visit, etc. to learn about his needs, informs the lead about his product or service, and ultimately convinces the lead to purchase the good or service. Depending on a number of variables, including the lead's decision-making process, the urgency and necessity of the purchase, etc., the lead-to-customer conversion process may occur quickly or may take days, weeks, or even months.
Knowing where your leads are coming from and which leads are converting will be easier with good lead management. This will enable you to identify sources with a better chance of conversion so you can concentrate your efforts and allocate your resources wisely, and that's where the ERPNext integrated CRM solution enters. No matter how large your sales team is, our CRM creates great opportunities, from
sales funnel to conversion to payment invoicing. Using the right ERPNext tool, you can filter leads, define lead ownership, nurture leads, follow with prospects, lead scoring, maintain cadence, etc.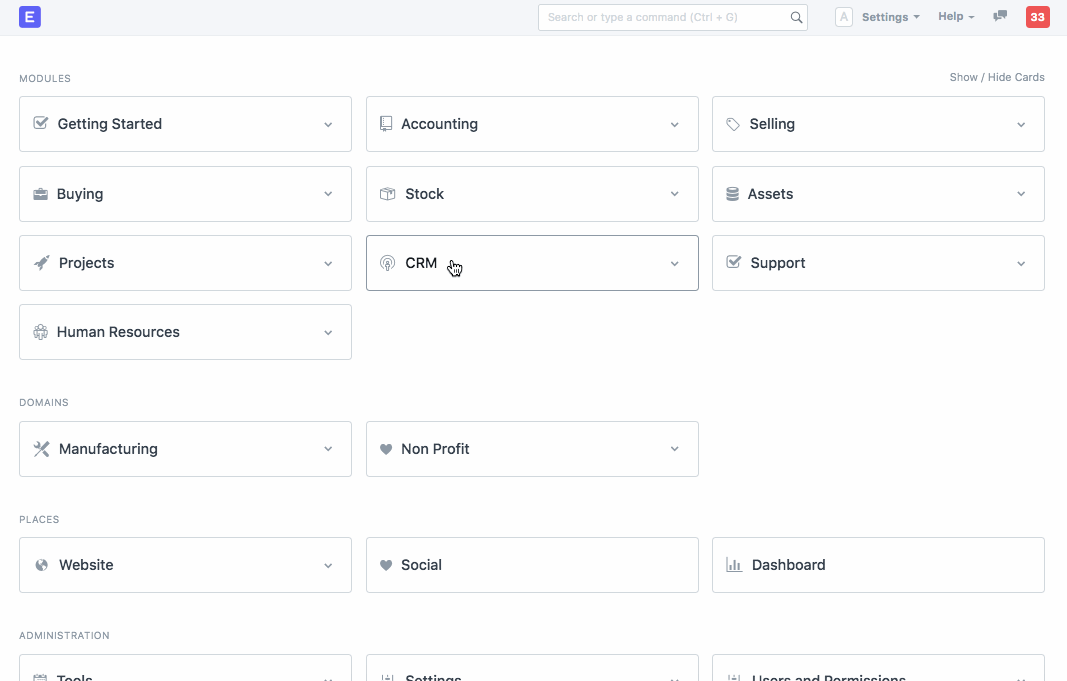 OPEN SOURCE CRM SOFTWARE FOR YOUR BUSINESS - TRIDOTS TECH
Your sales staff may track leads and opportunities from their desktop or mobile device with the aid of a CRM that is completely integrated with your ERPNext, which will facilitate communication between your sales team and simplify your pipeline management system. Improved customer connections will result from your improved ability to manage customer communication and experience.
Some of our advantageous ERPNext CRM features:-
Track Lead & Opportunity

Omni-channel Opportunities

Point Of Sale

Automate Daily Routine

Sales Person Setup

Sales Stage Setup

Prepare Custom Quotations

Email & Newsletter

Customer Management

Customer Group Segmenting

Sales Stage and Salesperson

Contact Address Record

Resolution records

Customer Group Setup

CRM analytics & reports
To conclude in a note, a good CRM will always enhance sales and profits.
Tridots Tech
offers an effective
ERPNext integrated CRM software
for your sales and marketing business. Interested? How I say, let's talk more...