On the contrary basis, we all know what is ERP. It is an Enterprise Resource Planning system used to manage entire business operations and data in a sole software.
An enterprise resource planning (ERP) system created especially for project-based businesses is known as a project ERP or project-based ERP. Construction, engineering, architecture, order delivery, manufacturing, and other professional services firms are examples of project-based businesses. Today Tridots Tech elevates the major theory of why ERPNext is required to manage projects in a company or enterprise. As next-gen commodities, handling bulk installations and subscriptions for every individual software is heartbreaking. With our all-in-one software, you can control, monitor, and coordinate entire business activities, maximize ROI, supply of resources, competitive possibility, and adhere to project prosperity.
ERPNext System: What do you need to know?
DISCOVERY OF ERP
Project management was formerly carried out manually using conventional techniques. It was soon discovered that inadequate tools had a big part to play in project failures. Due to this observation, several businesses have embraced cutting-edge technology and implemented various ERP software such as Odoo, SAP ERP, Oracle, ERP5, Epesi, InoERP, ERPNext, etc. With its assistance, you can manage the factors impacting or coming from the project during its lead-off, pilot test, or go-live launch.
Management of projects using the ERPNext system includes all the tools required to efficiently manage and use the resources at hand, ensuring that all project-related actions are carried out. As a result, the success of the project as a whole is greatly impacted by the use of appropriate ERPNext software.
As the most successful business management system, Tridots Tech has provided it's customers with customized ERPNext solutions with boundless features that are truly competitive and appropriate to enhance the growth of the project management industry.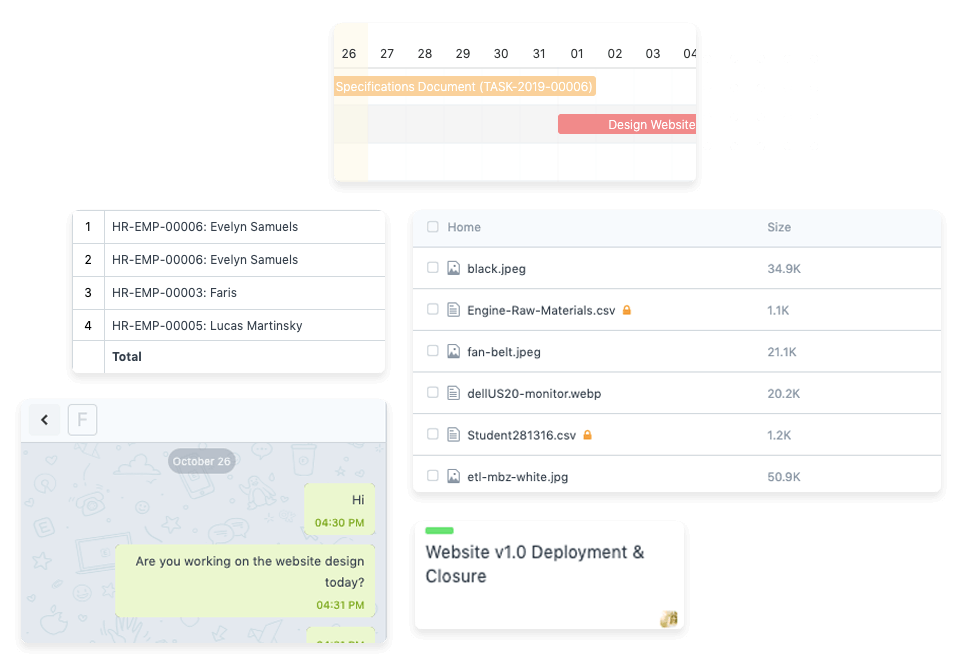 BENEFITS OF PROJECT-BASED ERPNEXT
-> Oversee tasks & enable business process
-> Strengthen project accounting
-> Offer Project based KPI
-> Sells to target customer
-> Boosts Inventory management
-> Improves resource management
-> Drive project success via the right implementation
-> Improve project planning and scheduling
-> Simple task delegation
-> Organization-wide collaboration
-> Cost tracking
-> Budget Management
-> Enhancing overall production
-> Early risk mitigation
-> 100% open source ERPNext solution
OUR AGILE ENTERPRISE PROJECT MANAGEMENT SOFTWARE FEATURES
- Task Management
- Timesheet Management
- File/Document Manager
- Email Management
- Project Profitability
- Project Costing
- Project Reporting
- Project Customer Portal
- Project Template
- Activity Type
- Activity Cost
- Sales Invoice from timesheet
- Salary slip from Timesheet
- Supply chain management
- CRM
- Project-based Accounting
Read more: ERPNext Software Development For Manufacturing Industry
CONCLUSION: CHOOSE THE RIGHT ERPNEXT PROJECT MANAGEMENT SYSTEM
Regardless of any industry, project matters to all businesses. Businesses can gain the most insight into their operations possible with the help of modular solutions. Otherwise, businesses can build a system only to be concerned with manufacturing, or they can use a variety of unique applications to create a system that is inclusive. The distinction between project-based and conventional ERP systems becomes somewhat less important as a result of ERPNext implemented modules.
In essence, our Tridots Tech ERPNext creates a functional ERP addition for many businesses by managing all project business operations in one system. The business and operational components of projects are integrated in real-time, making it the only solution on the market that puts projects front and center. Want to integrate your project management business with our ERPNext? Call us today!!!